We have listened!  "Information Forward" is the ultimate goal of this page.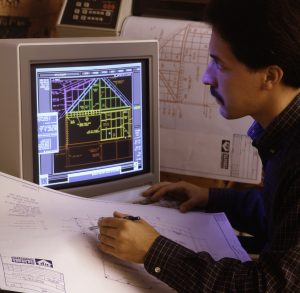 Customers get frustrated with being presented floorplan after floorplan. We hear over and over that people are hungry for actual, detailed information on a variety of topics. Everyone starts by clicking through a bunch of floorplans…that's almost universal. It's fun at first, but after a few weeks of web surfing, we've heard time and time again the interest clients have in researching more about a company.  Below is just a preview of some of the in-depth and professional discussion that comes with a consultation with Northeastern and Classic.
If you do nothing else on this website—take the time to click on and read through these questions because in about 15 minutes, you can actually learn more in depth about the Log and Post & Beam home industry than two months of being the "I'm just clicking through floorplans and dreaming" kind of person.
After reading the detail in some of these FAQ's, you'll quickly get the sense that you're finally gathering some outstanding information that will prove to be tremendously helpful as you quickly winnow down the list of companies that you would actually consider working with.  That type of knowledge is invaluable and highly reassuring–you know you're making a good decision.  Read on & reach out to contact us.  Hit the "Representatives" menu item above, or click "Contact Us" anywhere on the website.  That's where it all begins…
Wait a second—what's wrong with clicking through floorplans?
The Short Answer:  Well, I suppose really nothing.  It's fun.  Enjoy!  Let your eyes bug out and if a bit of drool starts to cross your lips as you dream about that home plan on your land—that's a total bonus.  The dream and emotion of imagining yourself next year sitting on your porch, hosting a summer barbecue with friends, or opening the door to welcome family at the holidays is where everything starts.
The More Detailed Answer:  Floorplans are fun, no doubt, but always remember that they'll tell you *nothing* about us, and they'll tell you *nothing* about any other company.   The stark honest answer is that any company can really do just about any floorplan design/layout.  You're often not re-inventing the wheel when you're talking about a home in the 2,500 square foot zone and under!  One of the ultimate goals of this FAQ is to guide folks in being able to identify and bookmark those companies that tend to have an excellent product and are very well regarded within our industry, and also, give you the tools to evaluate how to better identify websites that are set up from "sawmill companies".   Being able to get behind anyone's "floorplans" and evaluate a company on a bit of a deeper level is not something most websites make too easy to do!
After you've read through several of these questions, we hope you'll start to get a better sense of where we're coming from.  Please don't feel nervous about calling or emailing.  Our phone # and contact information is right at the bottom of the page.
Whoa, hang on there—what's a "sawmill company"?
Whether it's fair or not, it's a term that gets used amongst ourselves within our industry.  Unsurprisingly, the log home industry is much like any other.  There are certainly a decent handful of companies with excellent products and outstanding engineering that goes behind them, and also as certainly, a quite a good number of companies who might have a nifty looking website, have a few neat looking floorplans, but dramatically lack even some of the very basic things that tend to exist from a company with a much greater depth of quality and engineering.
"Sawmill companies" are that industry term for those companies that in a sense just open up the throat of a saw setup and let 'em rip, stack up logs and go.  As you read deeper into this FAQ, you'll come across the ways you can begin to identify logs that tend to be much more well engineered and crafted vs more of the sawmill/shell approach.
I want to do more than just look at floorplans. What are some beginner secrets, tips and tricks to know about the industry?
Here are three initial tips to pay attention to:
1)—Begin to find companies that are actually around the region where you are interested in building!!!  It's stunning how often we see customers looking at websites from companies in the Pacific Northwest or Colorado, or Texas or Wisconsin when they are thinking about building somewhere East of the Mississippi.  Imagine you want to buy a new pickup truck and you're lingering on the website of a company 1,800 miles away??   "Hey honey, I know we live here in New England, but there's this guy in Wyoming that's got a really cool truck for sale!  I'm going to check it out—I'll be back in 8-9 days!"  C'mon.  One key place to begin your search is to look to find companies that have representatives within a state or two of where you live.
2)—Learn how to quickly look for clues that can instantly help you start to evaluate the quality of engineering a company may (or may not) have. 
Just as a teaser example, here is one design element that tend to very quickly separate out companies with really excellent engineering from those above mentioned "sawmill companies".  First, look to see if a company even has something as basic as some form of a drip edge on their logs.  Something that's been present on just about every window you've put in for the last 40 years.  Below is a small close up picture of what we're talking about.  You'll notice that each and every log has a small overhang (the "Drip Edge" of the log below, and a small notch (the "Drip Edge Notch") cut into that overhang.  Take a close look at the illustration below–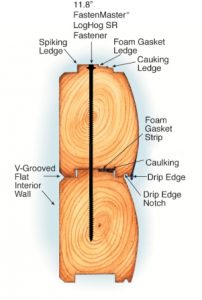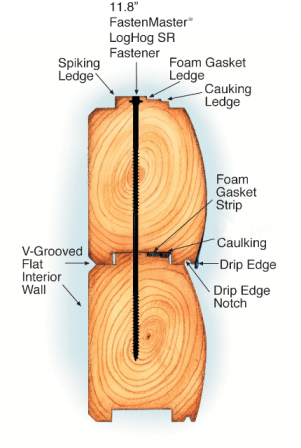 Well big deal right?  So what?  Why should I even bother to pay attention to something like that?
Simply put—even when someone is not deeply versed in the building trade, they can realize that when something like that detail exists on a log home, that small seeming detail prevents water from being drawn into each and every log seam every time it drizzles outside!  As just a teaser example, something like this should be one of the very first things you look for.
3)—Look on anyone's website, and see if they even attempt to show you something like the above!
You'll amaze yourself as to how hard it is to sometimes find the above type of information on many websites.  Most folks (and let's be honest—us too), put up nice pictures and fun floorplans, but the quality that might exist in materials and construction does vary across the industry.  Begin to investigate areas like this, this, and this.
We'll talk more about these kinds of things later, but the goal of this FAQ is to get someone reading this to think "Hey—this is actually pretty good information.  I've not seen stuff like this very often.  I'm going to the Northeastern Log Homes webpage and bookmarking this FAQ for later."
Subtle, I know!
I see you have the "Premier, Traditional and Camp & Cabin Series"? What's the difference between them?
The short answer: Well, two main things. First, the main difference is the direction of the material package we can provide–(More on that below)–and second, in the Premier Series leans toward all the elegant forms of construction that can make your log/post & beam home a stunning residence.  In the Traditional Home Series, we approach some of the elements of our construction a little differently.  More like that of a "normal" home in some ways.
The slightly longer answer:  Below is a sample cutaway of the Premier Series material package.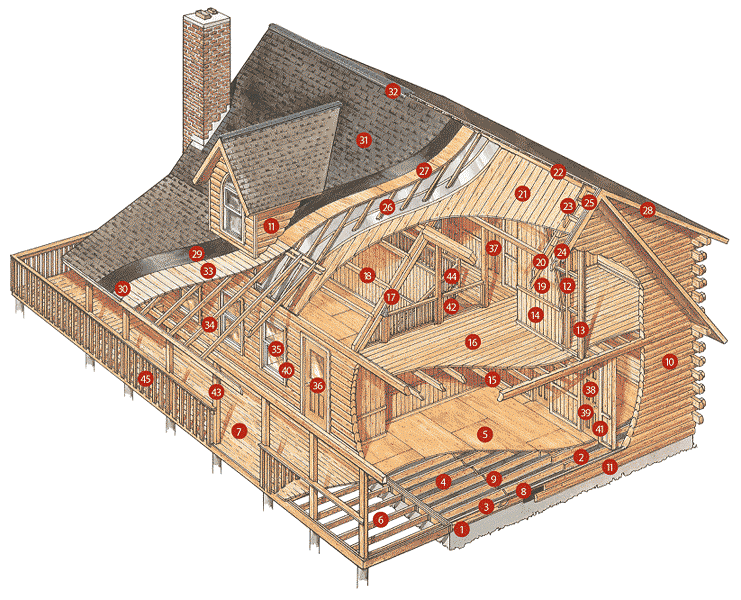 You'll see the full Post and Beam truss and purlin roof construction, the extensive material package that we supply, including high end Andersen 400 series windows (used in ALL our homes regardless of series!) high end Classic Craft embossed exterior doors, complete open beam roof system for first to second floor areas etc!  As a matter of fact, for a number of years, a magazine in our industry no less than Log Home Living themselves used OUR material list and our illustration (in their best selling year end special Buyer's Guide Issue no less!) and wrote "We've reproduced the bill of materials for a package supplied by Northeastern Log Homes to show how detailed a package can be." (underlining added)  You can't buy that kind of advertising.  So, very comprehensive, elegant, and thorough is the hallmark of the Premier Series!  Download a copy of the Pricing and Material List for both the Premier and Traditional Series HERE.
The Traditional Home approach in log and post & beam is characterized by the same attention to detail in the joinery and engineering that we use in the Premier line.  Because the audience for this series leans more toward folks who want to build a home, but be more conservative with their budget, we show more designs in the 1,200 to 1,500 square foot size—a few more first floor living plans.  Also, as mentioned above, we approach some of the elements of construction to be more like that of a standard home.  We'll utilize more of a rafter and ridge beam form of roof construction that can still allow for vaulted and cathedral ceilings for example, but not leap immediately to the full truss and purlin roof system that's a signature of our Premier line.
The goal is to offer the possibility to make selections and choices to better fit a budget.  Depending on the way in which you want to approach the fit and finish level of your home, you can certainly incorporate as options many of the exact same items we automatically supply with the Premier line.
In a nutshell, there is a tremendous amount of flexibility that can exist in how someone might want to choose how they approach building their log or post & beam home.  From the smallest cabins, to the most high end luxury homes we do, just about every customer works within the constraints of design, size, budget for their project.  Consult the Material List pages to delve into the specific differences, but c'mon, that's a lot of work!  Better to call or come in to visit.  About 5-10 minutes of discussion can walk you through this quite easily!
Here's a question I want to ask, but I don't see answered very often…what is your process? Let's say I feel real comfortable with you guys-- what is the first real step I ought to do to get this process rolling?
The short answer:  Well, it can be as simple as pick out a plan and write us a big check.
The easiest thing to do, and the thing that people are often the most nervous about—honestly, just give us a call, email or come visit.  We're not difficult to talk to, and by getting the chance to hear us on the other end of the phone, that begins to build a pretty good comfort level that will go both ways.
The longer answer:  In terms of sheer practicality, one of the greatest pieces of advice that we can offer through this FAQ is to get the log or post & beam home company you're comfortable with picked early on and get the initial design process moving forward!
As we've stated before, part of the ultimate goal of this FAQ is to begin to give you excellent information and enough familiarity with us that you really begin to develop a comfort level about who we are.  Once you have that initial comfort level and trust established, that's the time you want to begin to talk seriously about getting a design on paper.
The very first thing everyone is going to require is a set of plans!  Town, bank, builder, code official—every single one of them requires a plan idea in front of them on paper today!!  On the log side, beginning that initial sketch process is usually around $300 to $500, and that is mostly dependent on the size of the design and complexity of the modifications.  For Post & Beam plans, beginning a floorplan sketch design will typically be in the $500-$800 if something might be highly custom.  For something like our Camp and Cabin series, that's at the very easy end of that scale, and for larger homes with more engineering work involved, you'll be more toward the other end of that range.  This is all part of the package price of the home.  This is nothing extra or additional.  It's a nominal fee to cover some of our drafting and engineering time, and what it provides you in return is a phenomenal tool which is a full ¼" scale floorplan print of the first floor, second floor, and all exterior elevations exactly customized to the way you want it.  The initial sketch will also come with a detailed price quote and material list, and that will be one of the first things you must have for a bank, town, builder or financial institution.
That floorplan can be tweaked or modified and once you're comfortable with the design and layout, the next step is one of two things. First, you can place a 25% deposit to actually establish a delivery date for starting construction, or as has become mandated in many areas, in advance of placing the 25% deposit you can order the complete full set of working blueprints.  Usually, a complete, working, full set of blueprints will be about $2,500. This can vary a little bit, but the goal is to begin to give you a ballpark idea for most people.
Depending on what is required by your town, you may have to submit that complete set of functional blueprints possibly with things such as engineering stamps or energy calculations. Drawing and designing those full sets is the longest part of our process as we take care to review and design for the specific building code in your state.  Two homes that are exactly the same in size, design, and layout will have different things occurring behind the scenes if one of those homes is designed for coastal wind load of 120 mph, or a ski resort area snow load of 75 pounds plus per square foot.  In many cases these are things you will never see as a homeowner, (fastening details, anchor bolts spacing in foundations…), but these all the kind of details that a very good company is going to have on any full set of plans it provides.
The usual timeline a full set of plans tends to be around about six weeks or so and that can be highly dependent on the time of year.  The busiest season in the building industry is by far the late winter through mid to late fall.  If you are planning on building anytime in the NEXT calendar year, it is often a tremendous advantage to begin to get those sets of plans drawn for that following year about the time leaves are starting to come off the trees.
Lastly, as mentioned above, to order a package it is a 25% deposit.  The home package can be delivered approximately eight weeks later.  Longer timelines are always preferred, and shorter timelines are possible.  As long as you keep in close contact with us there are many tips we can give you and things we can do to speed the process along.  Plan ahead, and give yourself the gift of time is always a tremendously smart piece of advice.
Do Log or Post & Beam Homes cost more than "regular homes"?
The overly short answer:  They can be close to normal homes of similar quality, or little bit more.  It depends on the fit and finish elements you want and decide to pick for your "regular" home, or your log/post & beam home!
The more thoughtful answer:  This is another of those questions that tend to get asked earlier on in the process.  People often walk down the aisles of a local home show and (let's pick on the "modular home guy" for a moment), ask the modular home guy something like "Hey, what's the cost per square foot for one of your homes?" and gee—everyone would love to hear a low number right?   Most times, (if that guy is good), he'll quote you a number for a simple cape design 2000 square foot house.  Now, bear in mind that he's talking about 1000 square feet on the first floor and 1000 square foot on the second floor.
Now, as you decide you really like the idea of a log or post & beam home, with a very high degree of frequency, you're going to find plans and designs that have that beautiful loft that overlooks the downstairs living room, or you have on that plan a stunning Great Room with windows to die for.   All of a sudden, imagine that exact same 2000 square foot home we talked about earlier.  Now, imagine that you take away 500-600 of that 1000 square foot on that second floor (to create that loft/great room effect).  You would have the *exact* same size and volume of home, but two completely different square foot costs!
The main point above, (as you can probably gather) is that what a customer wants out of a floorplan design & layout has a large amount to do with the cost!  The guy quoting you a cost on a modular home is (for example) most certainly NOT quoting all the neat and nifty things that you actually *want* in a home.  The wood look, open beam ceilings etc.
The second point to bear in mind as you think about the difference between a Log/Post & Beam home and a "normal" home is that you can have a great deal of control on much of what that cost difference might be depending on the fit and finish elements you pick for your house!  Imagine asking that modular home guy "Hey, does that quote include things like a post and beam truss and purlin roof?   Are you quoting all of those ceilings as being the 4 x 8 open beam ceiling joists?  Am I getting high end knotty pine v-match wood for all interior areas?"
All of a sudden, by thinking through these items as talked about above, you can see that a log or post & beam home can really be what you want it to be.  Size and volume will be the largest factors there of course!  You can keep things a little more simple (more cost conscious like a "regular" home) by going in the direction of our Traditional Home Series.  (refer back to that question on the difference between the Premier and Traditional Series…)
What about the actual building? Do you guys have contractors or people that you work with? And, how possible might it be for me to do some (or even a lot of) work myself?
The short answer:  While we only manufacture the homes, the luxury here is that you have a tremendous array of options at your disposal.  On the Log side, because we do not do the "wet-timber" type approach that's so common in the industry where you as a homeowner have to deal with all of the problems and concerns associated with log wall settling, and because all the logs are precut lettered and numbered, (including complete corner joinery, all log to log joinery, all window and door openings, fully pre-cut gable ends etc.), anyone with good building/construction experience is able to approach the construction of any aspect of our homes without the requirement of a tremendous amount of highly specialized wet-timber construction experience.
We can often help you find a professional in your area that has done work for other clients, and because of what was mentioned above, the homeowner who wants to be involved him or herself in the project—that can now become a highly realistic option.  The level of service and education we can provide ranges across a very wide spectrum.
The more detailed answer: one of the very first things mentioned in this FAQ was to begin to find a company that's even remotely around the region that you want to build. We are one of the oldest companies in the industry with over 48+ years of experience in what we do.  Companies that are around the region that you want to build are companies that more than likely will have those contacts to help with a variety of elements of the building project.
A huge and very important point to make at this juncture:  One of the things we've touched on a little bit in this FAQ is the fact that on the log side, we don't do the "wet timber" type approach to construction.  In simple terms, you're not having to now worry about the log wall settling around all areas like windows and doors, masonry and plumbing.  The reason we attempt to dramatically highlight this specific aspect of our engineering is because across this industry there are many companies who exist who advertise that they provide a log shell package (that shell package will usually be accompanied with what seems like a relatively inexpensive price) and they'll mention something along the lines that yes, they can send a crew out anywhere across the nation to erect that shell, (and boy can that shell seem initially affordable).
In the vast majority of those cases, those log homes will be done using the wet timber approach.  It's pretty easy for a company to cut a tree on a Monday, shoot it through a commercial planer machine on Wednesday, and truck it out to your site on Friday.  Once that shell crew leaves, the enormous difficulty people have not realized is that now, every single tradesperson that touches anything to do with your home now needs to be (or darn well should be) a log home specialist.   How does that mason address the stone to wood joinery when that chimney does not move in space but the log wall will settle and move around?  How does the plumber, or his apprentice deal with the flex joints now required if that roof system is going to be settling or coming down because of the settling inherent in wet timber log wall movement?  How do you do something as simple as join an interior partition wall to an exterior settling log wall and have that joint look good?  Or put good looking trim around all window & door areas?
In most cases, these are 100% absolutely the kind of websites where you want to dig and see if you can find anything that really delves into the kind of construction and engineering details we try so hard to get people interested in.  These construction and engineering details are the heart of the post and beam or log home that you want to do!  When you are dealing with a company that has excellent engineering and deeply professional staff, any qualified tradesperson is able to apply their craft to our log & post & beam homes exactly as they would do it in a conventional home.  You don't have to find specialized cabinet hangers, you don't have to find specialized electricians, you don't have to find specialized plumbers, you don't have to find specialized masons.
Because of several of these points, it becomes absolutely possible for a homeowner to help, or do a tremendous amount of the work themselves if saving money or sticking to a strict budget is an issue.  When you call or visit, we can show you things that will take you a little bit behind the scenes like our standard detail sheets or our construction guide.  These are things that would come with a complete set of working blueprints, but by being able to sit down, see them, and talk through them, very quickly that gives a homeowner confidence and comfort level that this can be a very approachable project if they have the right set of skills.
All right, for a log home, what's the real difference between wood species? Like pine and cedar for example?
The short answer:   As long as you take proper care of *any* species that's used by a well-regarded log or post & Beam home company (pine, cedar, oak, or maple), you will have a beautiful house that will long outlast you, your kids and your grandkids.  We can work with both species, but since this is the short answer section of the question, the vast majority of people who really look into this on the log side go in the direction of pine for their choice of exterior material.  Post and Beam offers more options and choices for conventional exterior material.
The longer and somewhat funny answer:  I can almost hear you. There are many of you thinking something along the lines of—"But wait, I always thought cedar was some near-magical wood species.  I know that because a friend of a guy that I work with has an uncle who does stuff with wood, and that's what he said."
Click around long enough on the Internet and you will find websites that will say cedar, for example, is "rot resistant" or claim that cedar is "insect proof".  The real thing to keep in mind is that any good log home company is going to suggest you want to take care of *any* species of wood by putting on a good quality protectant—something geared for a log home—about every 5 years or so.  Never, ever forget that you are cutting down a tree, peeling off all of its natural protective outer bark, and exposing the inner wood material. When you use an excellent quality protectant, it is the protectant that is preventing UV damage to the wood fibers, and it is the protectant that is preventing water moisture from repeatedly getting drawn into the wood fibers.
Remember also, that in this day and age, you are *not* talking about a wood that is ever placed in direct contact with soil.  The real difference is this, imagine it was 75 years ago and you wanted to build a very large fence around your backyard.  Place 100 posts in the ground, 50 made of pine, 50 made of cedar.  Come back in about 32 years, and those pine posts are starting to fall over, come back in about 37 years, and your cedar posts are hitting the earth.
The amazing thing you can do yourself is that whenever you're looking at a website, or talking with anyone who is extolling the virtues of how resilient, astounding and amazing any specific species of wood is…pause for a few moments when they've exhausted their sales pitch and ask this next question:  "Wow. If it's that amazing, then I don't have to worry too much about putting any kind of protectant or treatment on the logs, right?  I could probably get away with putting a maintenance product on about every 10-15 years?"   And it is exactly at this point that any credible company will tell you no matter what species of wood you choose the ideal maintenance schedule is putting a protectant on about every 5 to 6 years or so *regardless of wood species*.  There is zero difference in the schedule of maintenance you want to employ with a pine, cedar, oak, or maple home.  Once people really begin to digest that concept, the above question tends to evaporate pretty quickly.
A fun comment we often make at home shows and trade shows if people are still looking up quizzically and skeptically is to kind of knock that tennis ball back over the net and asked them to "Go—walk around the forest. Go and hunt for these tens of thousands of cedar trees that have fallen over and have not rotted back into the earth. (pause) Good luck, you're never going to find them."  It's usually at this stage that people smile and really begin to absorb and get the point that proper and conscientious maintenance with an excellently engineered log home product that are the two key predictors about how well a home will perform and look over time.
To echo that last, but tremendously important point—be sure to reference the question to do with the quality of log engineering the company may, or may not possess.  For along with using a good quality maintenance product, the engineering that is either present, or lacking (a perfect example would be something like no "drip edge") will also contribute significantly to long-term excellence.
What should I know about financing for building a log or post & beam home? Do you guys do that? What's involved here that I might want to know?
The short answer:  Yes, we can often put you in touch with excellent financial professionals in your area who will be more adept at answering highly specific questions, as many of those types of questions can revolve around your individual financial situation.  Don't feel nervous about giving us a call at 800-624-2797 or emailing us directly at info@northeasternlog.com    In general however, be sure you are asking the right questions of the potential financial institution you want to work with, to avoid those unexpected roadblocks that can sometimes occur at the underwriting stage of a construction loan.
The more detailed answer:  Really? You want a much more detailed answer to do with some of the intricacies of financing?  You are either very passionate about your goal to find an excellent company to help build your log home, or it's about one in the morning and you're having tremendous trouble getting to sleep.  Either way, if you're keen on reading a bit more detail about certain financial things to be aware of—we like the cut of your jib.
In most cases, (this is pretty general), financing a log or post & beam home is going to be quite similar to financing the building of a conventional home. You'll go to a financial institution, you'll have a certain financial amount that you qualify for, and you'll have a construction loan.  That construction loan will be paid out in segments called disbursements as various points occur during the course of the home building process.
There are two things that tend to be good to be aware of early on when you are talking with a financial institution.  If your goal is to build a log or post & beam home, one of the stages that will happen is that you will be placing a deposit with a home company when you place an order.  Often times that deposit will be structured as part of that disbursement process.  Also, when that log or post & beam material is delivered, there will be a COD balance owed and, just as in the case of the deposit above, that COD balance will want to be structured as part of the disbursement process as well.
The other general point when looking at a financial institution is that often, there are elements in the fit and finish of post & beam and log home construction that can add tremendous value to the home. Elements like the all wood walls, high-end knotty pine V-match, open post and beam ceilings etc.   People that want a these kinds of homes do not want to walk into every room of their house and see the "four sheetrock walls and a white sheetrock roof approach" that is far more typical of common modular/stick home construction.
When it comes time for the appraisal process, the bank or financial entity will often want to have three comparables (called "comps").  A smart piece of advice is basically this:  when you are talking with a good financial institution that has experience in post & beam or log home lending, you are much less likely to run into that stumbling block down the road when all of a sudden at the underwriting stage.  A typical example is when the bank says something like "Hey– you know those three comps we're going to get", (because they're not as familiar with log or post & beam homes), "let's make sure that at least two of those three comps is a log (or post & beam) home, sold within six months, within 3 miles of the property."  Now, two months in, at the underwriting stage of the loan, there is an unexpected issue because of the lack of sophistication in the appraisal stage!
Most people, of course build a log or post & beam home because they love them. They are not looking to live in a home for 10 years, slap a coat of paint around the interior to resell it and move somewhere else.   This is one reason why you don't often see post & beam or log homes on the market place…
So, harkening back to the previous paragraph, when you have a financial institution that can properly appraise design choices and fit and finish elements such as open beam ceilings, all high-end knotty pine v-match wood construction on interior areas, post and beam design roof systems etc, that experienced appraiser will be able to properly recognize the value of many of those elements.  This is one of those key areas that can make or break your success in your dream of building.  Don't be afraid to talk to a few different local banks in your area, or of course, give us a ring.
I see you have a lot of different plans online. Can they be modified or changed?
The short answer:   Yes.
The longer answer:   Yess.
(Well technically that's longer isn't it?)  The plans we do show are meant to be starting points.  They can certainly be modified or changed.  One of the excellent features of our company is that there is zero charge for doing custom work.  If you change or alter a plan and you add material the price will go up, if you change alter a plan and remove material, the price will go down.
That's certainly a refreshing change from many companies where the moment you want to make a few alterations, you hear a deep sigh on the other end of the phone and things really begin to take a few unexpected leaps in design cost.  We are here to work with you.  It is your home, and that's been a founding principle since our inception.
Are they expensive? I mean, what does a log or post & beam home cost? Like what is the cost per square foot? Can you tell me? Why is it so tough to get a straight answer?
Alright, as promised earlier—I'm going to give a short *really* highly generalized answer, but it is going to involve a small amount of math.  I know that no one told you there'd be math, but here goes…
For those that insist upon a short and wildly general answer:  The cost of a log home will usually range anywhere from the $150's to the $200's per square foot, and post & beam will start a bit more toward the higher end of that range.  About $200+ per square foot will be the starting point for typical good quality post and beam construction.  Always potentially less if you have friends and relatives within the building trade or want to do some of the work yourself (not that hard surprisingly as discussed earlier).  Some of this cost will depend on the kinds of materials chosen–go more toward the very nifty end of the industry like we do in our Premier Home Series for a dazzling great room, or approach some aspects more like regular home construction but stay more toward a particular budget as would be more typical for the Traditional Home series.  Refer back to that question on the Premier/Traditional difference of couse!
The longer and actually detailed answer:  Now every one of us has heard the phrase that there are no stupid questions.  With that said however, think for a moment what happens in the mind of your typical carefree happy-go-lucky log home representative when he or she hears the question, "Hi.  I'm thinking of building a log home.  How much do they cost?"  Honest to goodness, a near exact version of this question is asked with stunning frequency.
To whoever is reading this:  Imagine if a 5 year old kid were to come up to you and ask you the question "How tall are trees?"  Or "What color are flowers?"  You realize instantly and at a gut level that in order to give an accurate answer to either one of those two questions, you need a little more information.  "What kind of trees?"  Or "What type of flowers?"
There are a large amount of variables that will come into play and much of it will depend on the fit and finish that you choose for the elements of constriction and design as well as the design itself.  Take a look for example at the question entitles "Are log or post and beam homes more than "standard" construction?" and you'll start to get a better idea of some of the variables that you can think about.  Really, the best way to start to approach this question is if you take a look at our Premier Series, with that very extensive material package (discussed below) as a general starting point, you can figure that our material package is roughly 1/3rd the cost of a finished home.  So a home package that's about $100,000 would roughly yield a finished idea somewhere in the high $200,000/low $300,000 range on your land.
In the Traditional Home Series, since our material package is a bit more simple, you can figure about 3.5 times that package price, so when you call or email to get the Premier or Traditional Price list, since most of the Traditional Home packages tend to hover around the mid $80,000-low $90,000 range, about 3.5 times that amount would get to a finished cost somewhere in the high $200,000-$300,000 range.
There are many variables to consider, but these initial replies are meant to at least start someone down the path.