Anyone can draw a floorplan, but take about 10 minutes and read below–it starts to hit on key details that a future customer should begin to look for.  The goal is to illustrate some of these high points to allow a customer starting out to begin to look deeper at a company…and be able to evaluate the quality of a building system that may or may not be present!  Below are some key engineering details from the Premier Series that have been developed and refined over nearly five decades, and why they are very important things to look for!
Triple-Seal Weather-Lock™ system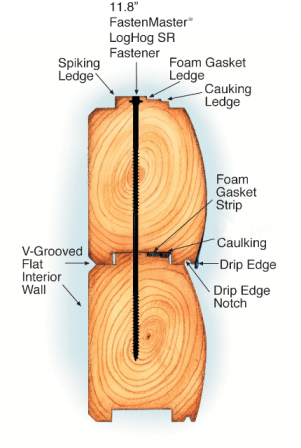 Drip Edge and the Drip Edge Notch.  It's almost impossible to overstate the importance of something like this as a first line of defense to prevent water and moisture from being drawn into every log seam in your home every single time it drizzles outside.  Something like this is one of the very first things you should look for to start to discern the quality of someone's engineering & building system.
Single Raised Tongue on top of the log.  Strongly preferred by many well-regarded manufacturers.  When some manufacturers show things like a double tongue (two ridges on top of a log), remember that creates a trough–right up the middle of your log area–exactly the place where you do NOT want water & moisture to linger.
Elevated Ledge for Caulking and Compressible Foam.  You want to have your sealing elements raised up OFF the first wood to wood point of contact.  Then, if you have wind-driven rain that pulls a small amount of moisture past the drip edge, about an hour after the rain is done, the moisture can easily evaporate and dry out.  If there were a layer of caulk immediately behind the drip edge (instead of being slightly elevated)…well, then water/moisture has a very good chance through capillary action to get around, under, and behind your caulking.  That's where there can be the possibility of trouble in the long term.
---
Corner cuts and sealants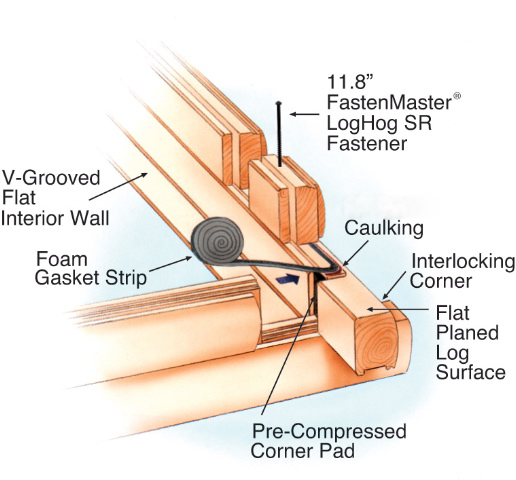 Flat, Planed Log Surface at all corner areas.  You should NEVER see a log tongue protruding out at a corner anymore.  Especially not a double tongue(!) or even more problematic, any kind of a downward cut in the top of a log for a spline.  Good manufacturers take the time to remove that log tongue at every corner area.  Exposed log ends are critical weather area and having them milled flat allows for a cleaner look and improved water-shedding performance.
Full Mortise & Tenon Joinery at all log areas.  Mortise & Tenon joinery at all areas like corners, log to log joinery and around ALL windows & doors creates a far stronger and more precise fit for pre-compressed corner pads.
Foam and caulking continue in an unbroken seal throughout the home along both vertical and horizontal planes. At the corners, pre-cut and compressed foam pads provide additional protection and a solid fit.
---
Window and Door Jambs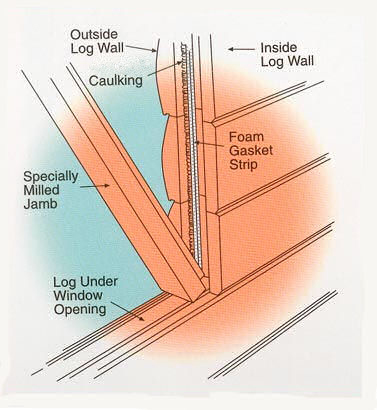 Specially milled jambs at windows and doors add weather-resistant protection at challenging joints, creating a solid barrier to the outdoors.  It's an easy shortcut to just have a straight cut on logs around all windows/doors–just slap up a 2 x 4 for a jamb & away you go.  That's still done far too often.  When someone takes care to have actual precise mortise & tenon joinery at all window and door areas (as shown by the illustration below), that kind of engineering detail is what allows the wind to blow 30-40 mph and eliminates the more common air infiltration issues around window & door areas.
---
Roof design resists wind and water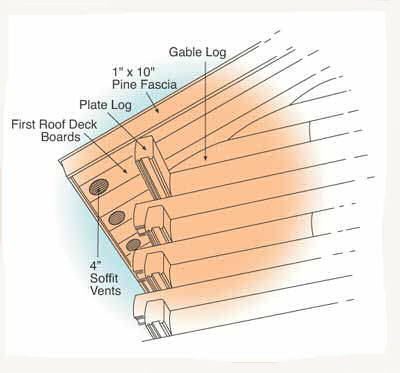 NO "Pass Thru" for purlin roof framing members.  through the weather-tight, solid log gables.
Extra Large Soffit Vents (not just the mini-louvres that can be typical).  These very large soffit vents provide the additional volume of air exchange critical to a long-lasting roof.
Generous overhangs further guard against potential water damage.  Remember, that initial overhang will protect the first 6-7 log rows–(when there is NO wind!) then that Drip-Edge mentioned earlier comes into play for protection at every other log row.
---
Double-roof construction eliminated moisture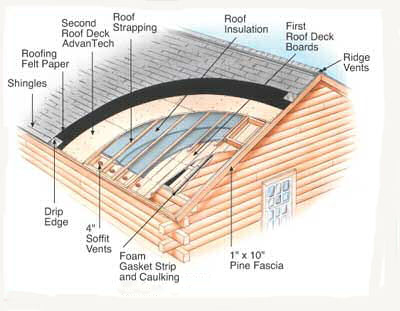 Rigid Insulation (by others) provides a tight fit across the entire roof area for maximum energy savings.
Oversize venting space from 4″ Soffit vents (or strip vents) up to Ridge Vent area for long lasting roof.
Advantech Roof Sheathing in the Premier and Traditional Series for an excellent, non-warping substrate.  Far better than typical plywoods!
---
Mortise and tenon joinery ensures a tight fit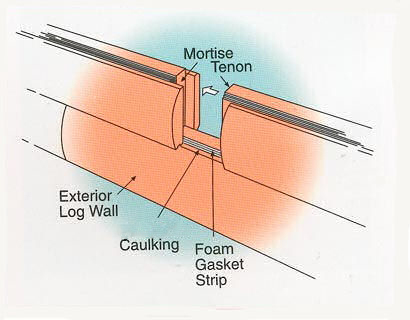 Full Mortise and Tenon joinery allows for a precise and tight seal at every log to log joint.
The foam gasket and caulking of our triple-seal system extend into the mortised joint.
NO "double-tongue with a trough" or "drop-in splines" anywhere in our engineering for the log system!