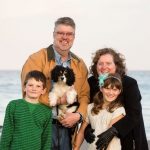 John has been with Northeastern Log Homes for over 26 years.  In that time, multiple client homes of his have been chosen and featured as major national articles in publications such as Log Home Living, Log Homes Illustrated, Country's Best Log Homes, Log Home Design Ideas and more.  In handling the multiple hundreds of projects he has done–he has earned every gray hair upon his head.  When not driving his kids to nearly every sporting event in the area, he can often be found rolling on the floor with his dog, Hampton 'Wiggles' Quinlan.  He is a private pilot and professional-level photographer.
Come and visit the stunning showcase Log and Post & Beam home I have in Westfield!
Open House Every Saturday 10-4 p.m.*
IMPORTANT–Please check the "COVID-19" link in the menu bar for current information as to public visitation.
Model also open for plan consultation and tours:
Tuesday – Friday 9 a.m. – 5 p.m. (please call ahead if you plan to visit during the week)
*Upcoming 2022 Holiday Closings:
Labor Day Weekend
Northeastern Log Homes
Classic Post & Beam
1126 Southampton Road
Westfield, MA 01085
jquinlan@northeasternlog.com
(800) 528-4456